Wednesday, 31 October 2018
https://ift.tt/2PvmCdA
Binance has frozen multiple accounts associated with the cryptocurrency exchange Wex, citing money laundering concerns.

The CEO of Binance went on Twitter recently to announce the freezing of multiple accounts owned by Wex, claiming that Binance will cooperate with law enforcement in any way possible should a criminal investigation result from alleged money laundering.
Wex, a Russian-based cryptocurrency exchange, has had a troubled history, to put it mildly. Going formally under the name of btc-e, it drew community unrest when its alleged operator, Alexander Vinnick, was arrested. It subsequently rebranded to the current name and set up a New Zealand-based server.
People using this exchange have reported being unable to actually use or withdraw their money, with a dedicated website of aggrieved users meeting to share information about possible allegations of theft.
Per the CEO of Binance's Tweet, it seems as if large amounts of this missing money is being moved through Binance, presumably for the purposes of fraud. To this end, Binance has agreed with the general consensus that criminal activities could be involved.
The CEO went on to state that circumstances such as this are often an unpleasant point in favor of increased centralization for cryptocurrency, as someone does have to be on the hook to help stop fraudulent activity.
This article originally appeared on Bitcoin Magazine.
via Bitcoin Magazine
https://bitcoinmagazine.com/articles/binance-freezes-funds-multiple-accounts-dubious-crypto-exchange/#1541026075
Tuesday, 30 October 2018
By REUTERS via NYT https://ift.tt/2qrZ5w9
Posted by

SimonKing
at 22:33
No comments:

By REUTERS via NYT https://ift.tt/2Q7I5q9
Posted by

SimonKing
at 22:33
No comments:

https://ift.tt/2DcXjXU
Happy Birthday, Bitcoin!
Bitcoin is turning ten, and like many of us, I feel like a proud parent, having watched it grow into its potential over the years. I guess I'm the estranged father in prison though, who can't be there to help raise his kid.
Bitcoin: Mommy, when's Daddy coming home?
Mommy: He'll come home as soon as he can, sweetie.
Bitcoin: Why did he leave us, Mommy?
Mommy: I'll explain when you're older. Now run along and play blockchain with the other cryptos.
Bitcoin as a 10-year-old kid is not a bad analogy. The technology is still very young, still growing. It's been shooting up like a weed and been through some growing pains, but it's barely a pre-teen and has the rocky road of adolescence still ahead. It's something we all have to go through to mature into adults, to discover who we are, and Bitcoin is no different.
We will see in the years ahead what Bitcoin is capable of, how it will be used, and the impact it will have on our world. I have high hopes that our gifted child will exceed everyone's expectations and go on to greatness, but it is still a child that must be nurtured and protected.
Bitcoin needs us to continue guiding it with the values it was founded on, that gave it its potential. We must keep our focus on decentralization, privacy and empowering individuals. We are Bitcoin's advocates and representatives. How far it goes and what it becomes in the crucial years ahead will depend on us. It is a technology with the power to make abstractions like peace and equality into reality. But it's up to us to embody such ideals and be role models for the ever-growing Bitcoin community and for Bitcoin itself.
I'm so excited for what's to come in the next ten years, for Bitcoin and all of its crypto cousins. I just hope I can come home and make up for these lost years and show everyone where my heart truly is.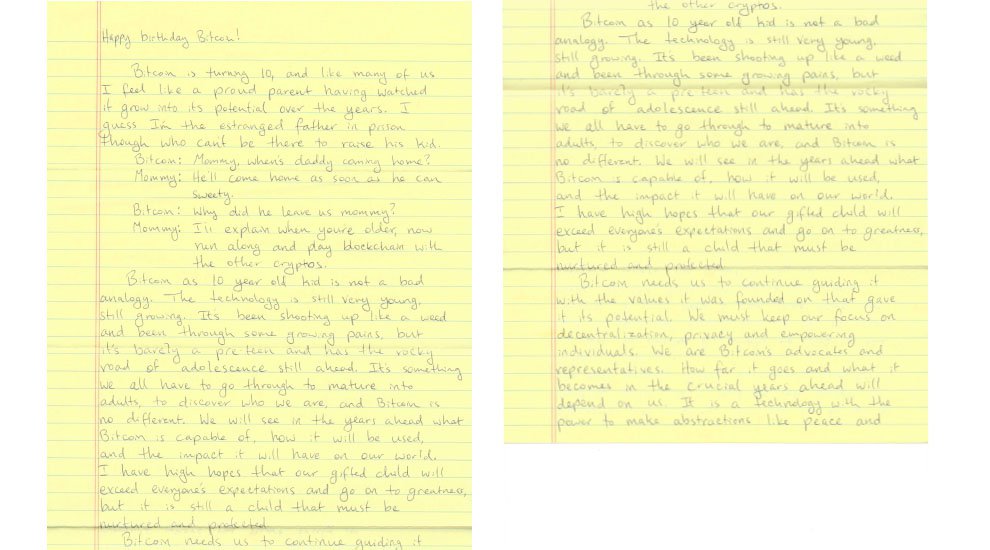 This is a guest post by Ross Ulbricht. It was shared, with permission, with Bitcoin Magazine by Ross's mother, Lyn Ulbricht. To learn more about Ross, sign his petition for clemency, and support the campaign to free him, please visit freeross.org. Follow @free_ross, @RealRossU and the #freeross hashtag on Twitter. Visit Free Ross on Facebook and freerossulbricht on Instagram.

This article originally appeared on Bitcoin Magazine.
via Bitcoin Magazine
https://bitcoinmagazine.com/articles/happy-birthday-bitcoin-letter-ross-ulbricht/#1540933044
https://ift.tt/eA8V8J
In this episode we catch up on some of the things that have been going on in SAFE Network development, where it's been and what's coming down the line now, including the roll out of public testing of the automated peer-to-peer connection library, Crust (standing for "Connected" "Rust").
How do you ensure all the nodes of an amorphous P2P network get and stay connected, even past firewalls and routers? How do you do it when most nodes are being run by non-technical people using their spare computer resources?
The demands are high. Will Crust be up to the job?
Music
Music for this episode: Safe Crossroads Beta, an original piece composed and performed by Nicholas Koteskey of Two Faced Heroes
Links
Medium article -- "SAFE-Fleming: Our Next Major Milestone"
MaidSafe Dev Update release of PARSEC
SAFE Crossroads #43, PARSEC - Efficient, Provable Consensus Has Arrived, with Pierre Chevalier
SAFE Crossroads #44, PARSEC Consensus Code Release, with Bart…'omiej Kami…"ski
SAFE Crossroads subscription links
via The Let's Talk Bitcoin Network
https://letstalkbitcoin.com/blog/post/safe-crossroads-45-approaches-to-alpha-3-with-nikita-baksalyar
https://ift.tt/2marcMC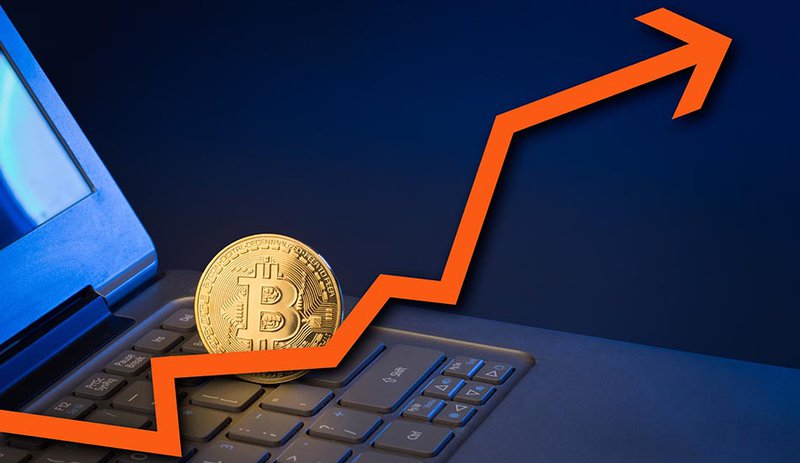 Another week has passed as bitcoin continues to coil in a tighter and tighter consolidation. Both price and volume continue to consolidate as bitcoin decides where the next major move will be. A trend of higher lows and lower highs shows a balance of both supply and demand, but ultimately one will win out:

Figure 1: BTC-USD, Daily Candles, Macro Consolidation

To gain a perspective of *just* how tightly wound the market is, a great tool analysts often use are Bollinger Bands (bbands). Bbands are a visual representation of forecasted volatility. If the bands are squeezing, there is a forecast for increased volatility in the future. Conversely, if the bands have already expanded and are beginning to round/bulge, there is a forecast for decreased volatility. In our case, on the weekly candles, the bands are squeezing tighter than they have in several years:
Figure 2: BTC-USD, Weekly Candles, Bollinger Band Squeeze

During the bull run, we could see a very clear trend of support being found on the bband midline for several years. However, at the beginning of our bear market, the midline has continuously proven itself to become resistant to every single rally over the last few months. However, as the price begins to consolidate further and further, the midline has drawn itself within striking distance, while the price trend has established a series of higher lows.
Even though a breakout has yet to happen, there are some early signs we can keep an eye out for, using the weekly Bollinger bands. I believe this next move will be a strong, sustained move that will paint the course of the market for months to come.
It's very easy to get lost in the weeds while trading bitcoin because it is so volatile on low timeframes, but if you look at the bigger picture on daily and weekly candles, we can see the strength of the trend.
One early sign of a directional breakout is when the bbands begin to expand again. As I stated earlier, bbands are a visual representation of consolidation and can forecast volatility. If the bbands begin to expand, that is an indication that the volatility has chosen a direction and will likely continue in that direction until the bbands round/bulge — thus indicating a forecast for decreased volatility until it consolidates once again.
An early sign of a bullish trend reversal will be on the close of the weekly candle. If bitcoin can manage to close above the weekly midline, that will be a sign that we have broken resistance.
However, it's important to note that just because we close above the midline doesn't mean we *must* continue. The next candle (the one following the candle close above the midline) will give us more information. If we can establish two consecutive candles closing above the weekly midline, this will be a definite change of character for our trend as we have yet to see two consecutive closes above the midline:
Figure 3: BTC-USD, Weekly Candles, BBands Midline Rejections

Summary:
Bitcoin continues to wind tighter and tighter as both price and volume consolidate in a sideways fashion with both higher lows and lower highs.

On a macro scale, the consolidation can be visualized using weekly candle Bollinger Band trend. We are currently the most consolidated the market has been in several years and the breakout of this consolidation with undoubtedly be a strong, sustained move..

Early signs of a breakout direction will be found with the BBand trend on the weekly candles. If the weekly candles can manage to close above midline of the BBands and, most importantly, find support, this will be a strong sign of a change of market character on a macro scale.

Trading and investing in digital assets like bitcoin and ether is highly speculative and comes with many risks. This analysis is for informational purposes and should not be considered investment advice. Statements and financial information on Bitcoin Magazine and BTC Media related sites do not necessarily reflect the opinion of BTC Media and should not be construed as an endorsement or recommendation to buy, sell or hold. Past performance is not necessarily indicative of future results.
This article originally appeared on Bitcoin Magazine.
via Bitcoin Magazine
https://bitcoinmagazine.com/articles/bitcoin-price-analysis-weekly-consolidation-hints-toward-sustained-breakout/#1540934354
https://ift.tt/2qkDF3J
On October 29, 2018, the Enterprise Ethereum Alliance (EEA) announced in Prague at DevCon 4 two new software specifications that will help businesses standardize future code developments on an enterprise version of the Ethereum blockchain.

The first specification, Client Specification V2, defines the implementation requirements for Enterprise Ethereum clients, including interfaces to the external-facing components of Enterprise Ethereum and how they are intended to be used.
The standardization of performance, permissioning and privacy demands of enterprise deployments are viewed as a necessary step by the EEA in order to help the growing number of vendors developing Ethereum clients to ensure that different clients can communicate with each other and all reliably work on an enterprise Ethereum network.
EEA Executive Director Ron Resnick stated that "using the EEA Specification, Ethereum developers can write code that enables interoperability, thus motivating enterprise customers to select EEA specification-based solutions over proprietary offerings". It should be noted that, while Ethereum has been basis for the majority of enterprise blockchain projects, 2018 has also seen developments using Cardano, EOS, QTUM and TRON, among others.
Aside from digital currency, enterprise or platform tokenization remains a hotbed for blockchain-based startups, with the vast majority of those needing an ecosystem where users can change the software they use to interact with a running blockchain, disambiguating the need for single-vendor support.
The second specification, Off-Chain Trusted Compute Specification V0.5, specifies enabling APIs that support private transactions, allowing offloads for compute intensive processing and permitting attested oracles. The EEA believes these objectives can be achieved by executing some parts of a blockchain transaction off the main chain in an off-chain trusted compute. The EEA currently endorses three types of trusted compute for this specification including a trusted execution environment, zero knowledge proofs and trusted multi-party compute.
Both specifications were lauded by Brian Behlendorf, executive director of Hyperledger, who lent his support to the announcements. The EEA and Hyperledger joined each other's organizations as associate members on October 1, 2018.
Behlendorf stated, "We are pleased to see the EEA reach and release its V2 and Off-Chain Trusted Compute V.05 specifications. Both organizations believe standards, specifications and certification all help with the adoption of enterprise blockchain technologies by helping customers commit to implementations with confidence …"
The new specifications are backed by the EEA's 500+ global membership, notably including banks like Santander and J.P. Morgan Chase; blockchain startups like blk.io; and traditional tech companies like Accenture, Intel and Microsoft.
This article originally appeared on Bitcoin Magazine.
via Bitcoin Magazine
https://bitcoinmagazine.com/articles/standardized-specifications-enterprise-version-ethereum-announced/#1540927160
https://ift.tt/2Q1Izhk
Popular cryptocurrency exchange Coinbase has raised a fresh $300 million in a Series E financing round, bringing the company valuation to $8 billion.

Coinbase plans to use the funding to "accelerate the adoption of cryptocurrencies," as it plans to remain the "entry-point into crypto" for millions of investors, according to a published blog post.
The new investment round was led by investment firm Tiger Global with Y Combinator Continuity and Andreessen Horowitz, with others participating. In August 2017, Coinbase was valued at $1.6 billion, after receiving a $100 million from a Series D round led by Institutional Venture Partners investors (IVP).
Rumors of the funding had turned up in early October with Mike Novogratz, the CEO at cryptocurrency-focused merchant bank Galaxy Digital, arguing that the rumors added legitimacy to the cryptocurrency market.
"Here's the poster child of the crypto space worth $8 billion — that's a real company, and Tiger's not a flake of an investor. These are smart, savvy guys," he had stated at a finance conference, at the time.
"We see hundreds of cryptocurrencies that could be added to our platform today, and we will lay the groundwork to support thousands in the future," Coinbase Chief Operating Officer Asiff Hirji remarked in the post.
It will also build its infrastructure to support regulated, fiat-crypto trading across the world, such as the launch of British pound sterling (GBP) trading pairs on Coinbase Pro and Prime.
The digital asset platform also plans to focus on "utility applications" for cryptos such as the launch of its USDC stablecoin, fully collateralized by the U.S. dollar and supported by Coinbase and blockchain firm Circle.
Based on a Fortune report, Coinbase has been mostly profitable, but the slump in crypto prices has affected trading volumes on exchanges across the board. Reduced trading volumes equate to reduced fees, which has driven the company to search for alternative sources of revenue.
Flush with cash, the platform will have its eyes on the custodial fees from institutional investors whose cryptocurrencies are kept with the digital asset platform. The platform also announced the addition of a wide range of crypto assets for its custodial services in August 2018 and the launch of a suite of tools and services that institutional investors can rely on when trading crypto.
"We see Coinbase's growth as validation that the ecosystem will only continue to grow in size, influence, and impact — ultimately ushering in a more open financial system for the world," Hirji concluded.
This article originally appeared on Bitcoin Magazine.
via Bitcoin Magazine
https://bitcoinmagazine.com/articles/crypto-platform-coinbase-secures-300-million-series-e-funding-round/#1540921902
https://ift.tt/2yCnNhC
On the latest episode of Season 2 of Distributed Dialogues, the hosts took a deep dive into the state of political repression in the People's Republic of China. Interviewing experts and dissidents at the Oslo Freedom Festival, this thorough examination of Chinese political life combines insight and research with the real, lived experiences of people in the nation.

The podcast episode compared two people's interactions with the state machines of China, one of whom was a U.S. citizen working as a journalist in China, the other a Chinese dissident made to flee his country. The journalist, Megha Rajagopalan, claimed that despite Western conceptions of Chinese political life, most citizens are "not concerned about the lack of freedom of speech."
Technologies with the power to harm human freedoms are developed and deployed in countries with a strong emphasis on protecting these freedoms, but then they are "exported to other parts of the world where things like the rule of law and privacy rights aren't very developed, with disastrous consequences."
To showcase some of these consequences, this experience with modern China is intercut with the life of Fang Zheng, a promising Chinese athlete who was run over by a tank and lost both of his legs in the Tiananmen Square protests. Ever since then, his desire to represent his country as an international paralympic athlete has been subverted, and the government hounded him with more and more sophisticated methods over the years.
The episode serves as a documentary on the state organs of Chinese political repression, a well-researched examination into the context and effects of this ossified state power. However, the episode is not entirely bleak, as it also involves a look into how blockchain technology can evade China's Great Firewall.
Justin Hunter, the founder of Graphite, talks about his censorship-resistant decentralized information storage, that can allow citizens to keep data without any government holding the ability to subpoena. A small measure at a glance, the very existence of information outside of government control is still a revolutionary act.
Topics in Distributed Dialogues Season 2 will continue to address human rights violations around the world and to bring in a number of experts who will describe these offences in stark detail. To listen to the full episode, as well as other episodes as they become available, visit the LTB Network.
This article originally appeared on Bitcoin Magazine.
via Bitcoin Magazine
https://bitcoinmagazine.com/articles/distributed-dialogues-political-censorship-china/#1540922404